Afghanistan
Afghan girls indoors protest against the closure of girls' schools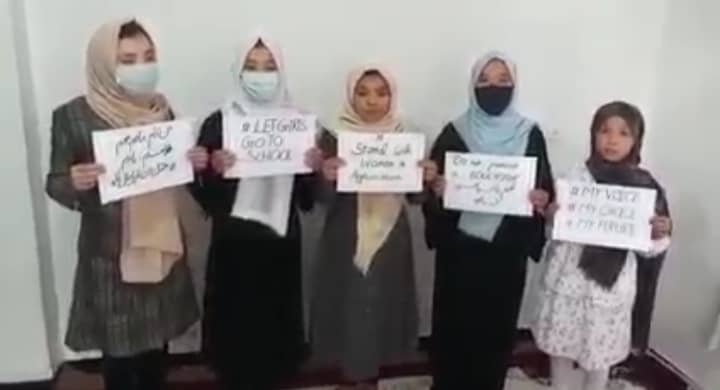 A video of Afghan girls circulating on social media shows members of the Afghan Women's Justice Movement in a covered and unknown location protesting the Taliban blocking schools for Afghan girls.
With the slogan "Do not politicize education", they want schools to be reopened to all girls and women to have access to their basic rights and urge the international community to take practical steps to support Afghan women and girls.
Afghan women protesters also claimed that they had received death threats and were forced to hold a rally in a closed and unknown area.
In a video released from the rally, a woman says that restrictions on women are becoming more severe and their struggles are being suppressed.
The protesting women said that contrary to the Taliban's promise, girls' schools had not been reopened and that the girls were living in misery.
"The United Nations has been silent on this," said one protester.
One of the protesting women said: "Whatever the system and regime, we want our rights; we defend our rights until the last moment of life."
The women protesters also chanted: "The right can be taken and we will take our right in any way we can."
With the Taliban take over, women in Afghanistan have been marginalized and now neither girls in most provinces can go to school and university nor women have the right to work in government. According to the Taliban, a large meeting of their scholars will be held soon to open girls' schools; However, the Taliban have not set a plan for women's work yet.
Meanwhile, female students in the upper grades of the sixth grade have been barred from going to school by the Taliban.
On the other hand, evidence and reports indicate that the Taliban rule has restricted the right of people, especially women, to protest and sue, and that women protesters have been threatened and imprisoned in the past.
Reporter: Fazila Azizi