Afghanistan
Afghan Women's Network: Girls' schools should be reopened and women should return to work in legal and judicial institutions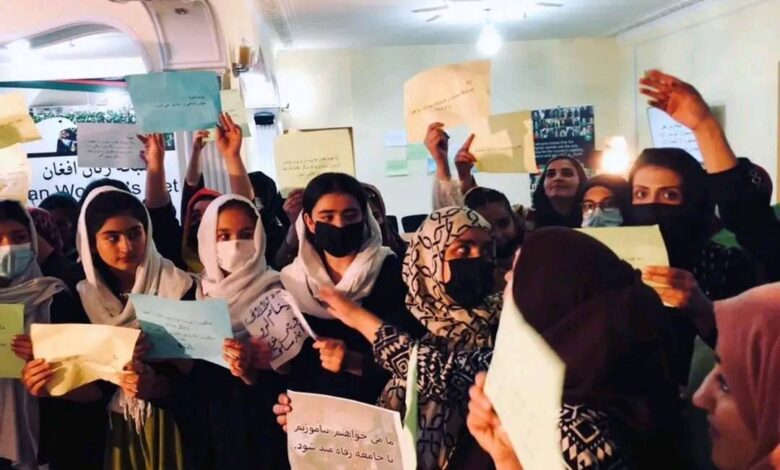 Members of the Afghan Women's Network, heads of civil society organizations and women's rights activists held a protest meeting on the eve of the one-year anniversary of the Taliban's return to Afghanistan, demanding the immediate reopening of girls' schools and the return of women to work and judicial institutions.
On Monday (August 15, 2022), the members of this network called for the recognition of women's rights by the Taliban in a protest meeting and issued a resolution in a closed place in Kabul and emphasized that the Taliban should reopen girls' schools as soon as possible and allow women to return to government offices and judicial affairs. The protesting women have said that "regarding the neglect of the ruling system in the field of women's education, their right to work and political participation, and women's lack of access to judicial affairs and the closing of school doors to girls from the sixth to the twelfth grade" They started a protest meeting.
Protesting women ask the international community, women who influence Islamic societies and Islamic jurisprudence to finance educational and educational projects for girls and cultural and media activities of women and girls, the right to education, the right to work and the right to travel for women; Join the protesting women. They chanted the slogans of food, work and education, and the students who participated in this meeting unanimously demanded the reopening of girls' schools. On the eve of the one-year anniversary of the fall of the country to the Taliban, Afghan women and women's rights and justice movements called for the reopening of girls' schools and the provision of women's rights in protest gatherings.
These protests usually take place in closed places due to suppression by the Taliban.
Because the Taliban suppressed women's street protests with slogans of food, work and women's freedom.
Afghan Women's News Agency