Afghanistan
Celebrating World Press Freedom Day in Kabul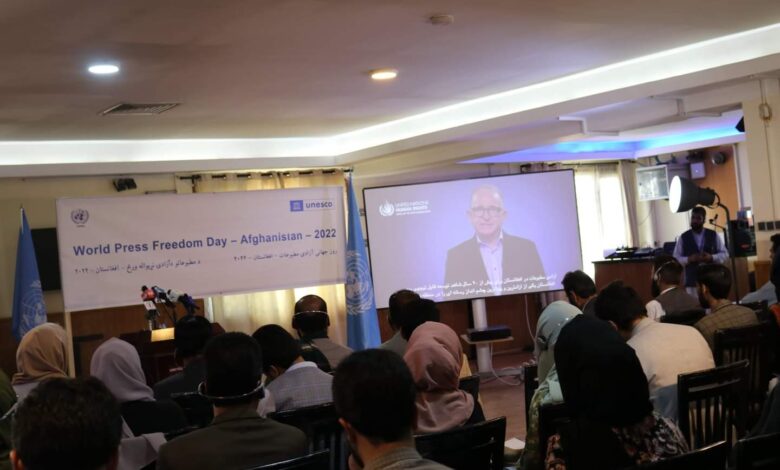 The Office of the United Nations Assistance Mission in Afghanistan (UNAMA) said in a press release that the Office, in cooperation with UNESCO, celebrated World Press Freedom Day in Kabul.
"The event hosted a number of Afghan journalists and media advocates and provided an opportunity to discuss the small and limited media space in the country and ways to address it," the statement said.
UNAMA Deputy Director-General Matthew Nodson paid tribute to the hard-working journalists for their determination and perseverance.
"Let me assure you that UNAMA and the United Nations family in Afghanistan stand by you in full solidarity with your call for immunity, professional independence and a free press," he said.
TOLOnews chairman Khaplwak Sapai spoke on behalf of the Afghan media community at the event, calling for the support of journalists from the United Nations and the international community.
He warned that otherwise the structure of the Afghan media would be destroyed due to the restrictive environment and the financial crisis.
UNESCO said in a statement read at the conference that it was concerned about the detention of journalists and the increase in restrictions on media freedom. It called on everyone to support the freedom of the press and the right of journalists to carry out their duties without fear of arrest or intimidation.
In a joint video message, Richard Bennett, Special Rapporteur on the situation of human rights in Afghanistan, and Irene Khan, Special Rapporteur on the promotion and protection of freedom of expression and expression, called on the authorities to recognize a free, pluralistic and independent media. Recognize and respect it and act in accordance with Afghanistan's obligations under international human rights instruments related to freedom of opinion and expression.
May 3 coincides with World Press Freedom Day, but UNAMA is celebrating it today.
Reporter: Latifa Sadat Mosavi