Afghanistan
Protest rally and demand for the opening of school gates for girls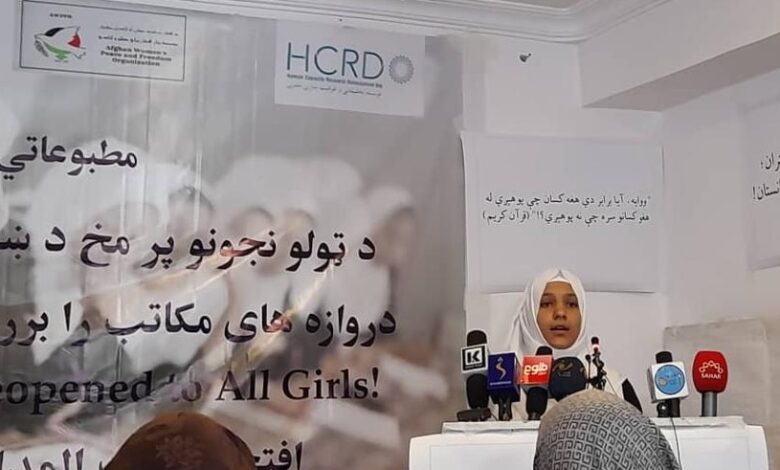 A number of women members of the Afghan Women's Institute for Peace and Freedom called for the unconditional reopening of schools for girls during a protest rally in Kabul.
The gathering was held on Sunday (March 27, 2022) in an enclosed space in Kabul.
Torpikai Momand, deputy director of the Afghan Women's Institute for Peace and Freedom, called for the unconditional reopening of school gates to girls and called the Taliban's stubbornness unforgivable.
"Our last request is that we want the gates of the schools to be opened as soon as possible, unconditionally, because the girls' education has no legal problem.
Asra Rasouli, one of the participants in the meeting, spoke about the education of men and women in terms of religious and Islamic precepts and stressed that learning science from the point of view of Islam is obligatory for every Muslim man and woman, but by doing so, the Taliban commit a grave sin which women and girls recompense it.
"The Islamic Emirate can not pay the atonement for preventing the obligatory (learning science) neither infront of God nor infront of the nation."
She also stressed that the Taliban government had violated its national and international obligations by keeping the gates of schools closed to girls.
Meanwhile, Shogofa, a ninth-grade student who spoke at the meeting, said:
"We call on the Islamic Emirate to open the gates of schools for our progress, and we call on the international community to support us and not deprive girls of their right to education."
Masouma Ayoubi is one of the teachers who protested against the Taliban's actions in connection with the closure of girls' schools. She told the media:
"What do the Taliban think? What do they want from Afghan women? We see that there are about fifty or so Islamic countries. In which country and society have women, like Afghan women and girls, been left out of school?"
But on the day the schools reopened, the female students in the upper grades of the sixth grade returned home disappointed and in tears.
Reported by: Latifa Sadat Mosavi