Afghanistan
Repetition of the previous scenario; Girls do not go to school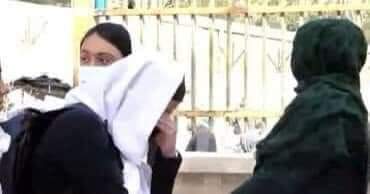 At the start of the new school year, schools were scheduled to reopen today (Wednesday, March 23) after months of closure, but the Taliban-led Ministry of Education said in a statement that all girls' schools (secondary and high schools) would be closed until further notice.
Meanwhile, in Herat and Badghis provinces, the gates of schools were opened to female students, and in Herat, during an official ceremony attended by government officials, women, teachers and students, the beginning of the 1401(2022) school year was celebrated. But it is not yet clear how long girls will be able to go to school in these provinces.
But in Ghor province, the gates are still closed to girls above the sixth grade.
"I am happy that school has started again and I can continue my studies and I hope that all the girls in the country will go to school again," said Sonia Ahmadi, a student in Herat.
She adds that girls have the right to study and be present in society.
"When the school was closed, I was very worried about continuing my education and had no hope for the future, but now I am happy to be back at school," said Amena, another student at the Gawharshad School in Herat.
But in other provinces of Afghanistan, girls have not been able to enter school and continue their studies.
"Going to school has become an impossible dream for us."
Soodaba is a ninth-grade student at a school in Kabul who, like thousands of other girls, has not been able to attend school. "Today, when they wanted to go to school, they were told that girls above the sixth grade could not go to school," she said.
"While girls study, study and develop in other countries, in Afghanistan girls do not even have the right to go to school because they are girls," she said.
Despite all the hardships and insecurity in Afghanistan in recent years, female students in the country have not given up and have made significant achievements in the field of education.
But now these students say that all the doors of hope are closed on them and not being able to continue their education means that their dreams will be dashed.
The Office of the United Nations Assistance Mission in Afghanistan (UNAMA) regrets the Taliban's announcement to extend the ban on girls' education above the sixth grade.
Reported by: Shahira Elhami