Afghanistan
Suicide of a man due to economic problems in Takhar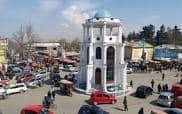 A local source says that last night a 50-year-old man hanged himself in Qezel area of ​​Rostaq district of this province.
According to the source, this man's name is Mohammad Qol and he did this because of economic problems and poverty. This man was a shoemaker and left behind six children.
Since the beginning of the Taliban rule in Afghanistan, the provinces of Afghanistan, especially the northern provinces, have been witnessing suicides every day due to economic problems and unemployment.
Afghanistan Women News Agency