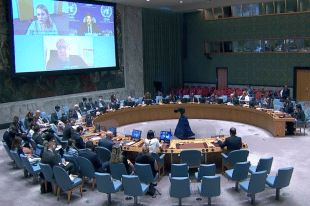 The United Nations Security Council held a meeting on Afghanistan on (Tuesday, August 30, 2022). This meeting was held behind closed doors. The participants in the United Nations Security Council meeting once again emphasized the education of girls and respect for human rights in Afghanistan. The representatives of the United Kingdom, Albania, Norway, China, the United Nations representatives in Afghanistan, the head of the permanent representation of Afghanistan in the United Nations were among those who repeatedly emphasized the right to education of girls and the right to education and work of Afghan women.
Nasir Ahmad Faeiq, head of Afghanistan's delegation to the United Nations, told the media that this organization should have a role beyond the coordination and distribution of humanitarian aid. He asks the Taliban to consider the rights of all Afghan citizens regardless of ethnicity, gender and religion.
In this case, Marks Potzel, head of UNAMA, told the media that one of the reasons why Afghanistan has not been recognized so far is the non-respect of human rights, especially the rights of women and girls, by the Taliban in Afghanistan. He said: "The current government of Afghanistan has not been recognized by any member of the international community. The reasons for this are clear, the international community has standards regarding human rights, especially the rights of women and girls, and the Taliban must adhere to international commitments."
But Zabihullah Mujahid, one of the Taliban's spokespersons, has repeatedly told the media that the closure of girls' schools in Afghanistan has cultural causes.
He says that the rights of the country's citizens have been respected based on Islamic laws.
Afghan Women's News Agency