Afghanistan
Women protest in Kabul in connection with the Taliban's mandatory hijab order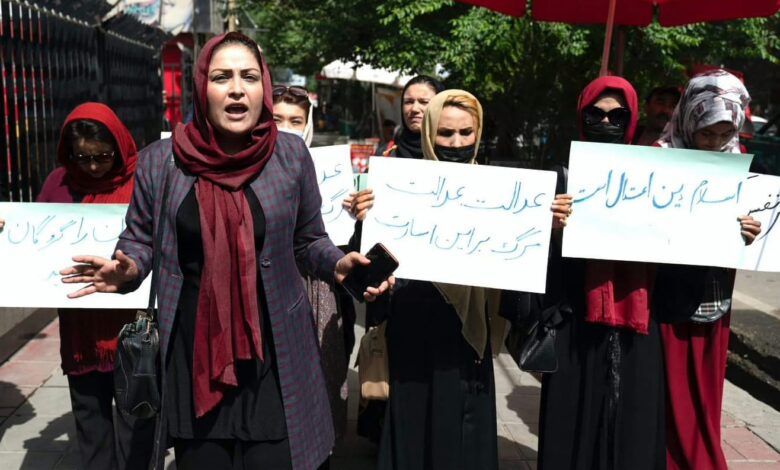 A number of protesting women members of the "Spontaneous Movement of Protesting Women of Afghanistan" today (Tuesday, May 10, 2022) protested against the Taliban's mandatory hijab order, but were surrounded by Taliban members and detained for two hours and then released. But reporters who came to cover the women's protests were arrested and taken to an unknown location.
Julia Parsi, a member of the spontaneous women's protest movement, said in a video message that Taliban had taken them hostage for two hours and harassed them.
"They took us hostage for two hours and took the phones of the majority of the girls. They told us that you are misguided and homeless women and that only one percent of the 100 percent of Afghan women wear the hijab."
According to Ms. Parsi, the Taliban cited Pakistan as one of the exemplary and Islamic countries, calling the protesting women unveiled and infidels, and insulting and humiliating them. Warned them to observe the Islamic hijab.
The Taliban released the protesting women after two hours of detention, on condition that they no longer take to the streets to protest. But the fate of the detained journalists is still unknown.
Protesters chanted slogans such as "Burqa is not an Islamic hijab" and "Do not take women hostage," which were repressed and detained by Taliban.
Yesterday, the women's movement " Women's Movement for Justice and Freedom" protested against the Taliban leader's order on the forced veil of women and called on the international community to put pressure on the Taliban to restore the rights of Afghan women.
Reported by: Latifa Sadat Mosavi