Afghanistan
Women protesters and students in Kabul: We will not back down from demanding the basic rights of women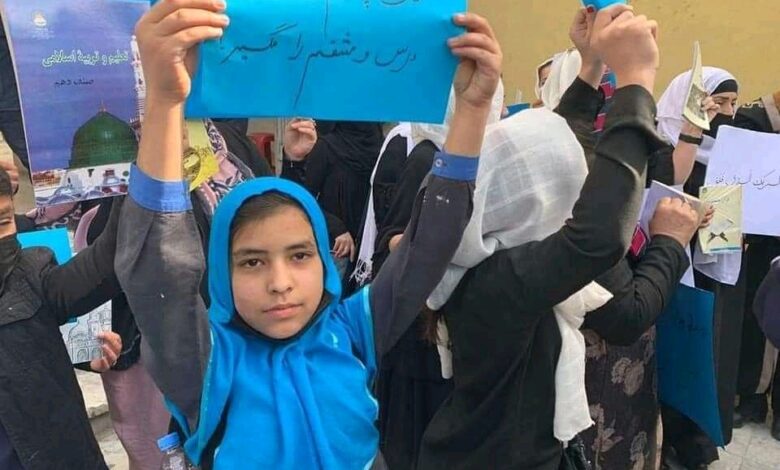 Dozens of female teachers and female students marched on Saturday morning (March 26, 2022) to protest the closure of girls' schools above the sixth grade.
The women and students chanted slogans such as "You took my chaste soil, do not take my lessons" and "Education is our inalienable right" on the Kabul Sedarat Road, and opposed the Taliban-led government's decision to stay blocked girls' schools announce.
The protesting teachers in this march say that the closure of girls' schools in the country is a suppression of the talent of the new generation and along with the suppression of talents, it seriously damages the morale of female students.
Protesters are calling on the Taliban-led government to put aside its stubbornness to block girls' schools in order to further "global shame" and secure Islamic rights for girls.
Students participating in the march say there is no legal obstacle for girls to acquire knowledge in the holy religion of Islam.
These students continue to raise the slogan "Do not politicize education!"
They believe that the Taliban-led government, by politicizing girls' education, wants to pressure the international community to recognize them.
The spontaneous women's protest movement in Afghanistan, which organized the rally, said that by performing its 20th protest, the movement was demanding the right of girls to education and also called on the families of schoolgirls and all the people of the country to keep their protests running against the closure of girls' schools and express their protests in different ways until the girls' right to education is guaranteed.
"We will not back down from demanding the basic rights of the people, especially women, and women's rights must be restored," said the Afghan Women's Spontaneous Protest Movement.
The street protests are taking place as female street protesters have been repeatedly repressed by Taliban intelligence for their protests, and a number of women protesters have been detained and released on condition that they remain silent and do not participate in civil protests.
However, women's protests against Taliban policies are spreading in various ways.
The United Nations, the United States and female foreign ministers in 16 countries have condemned the Taliban's decision and called for the immediate reopening of schools for girls.
Reported by: Latifa Sadat Mosavi