Afghanistan
Women's protest against the Taliban in Kabul and Parwan: Women are not your sexual slaves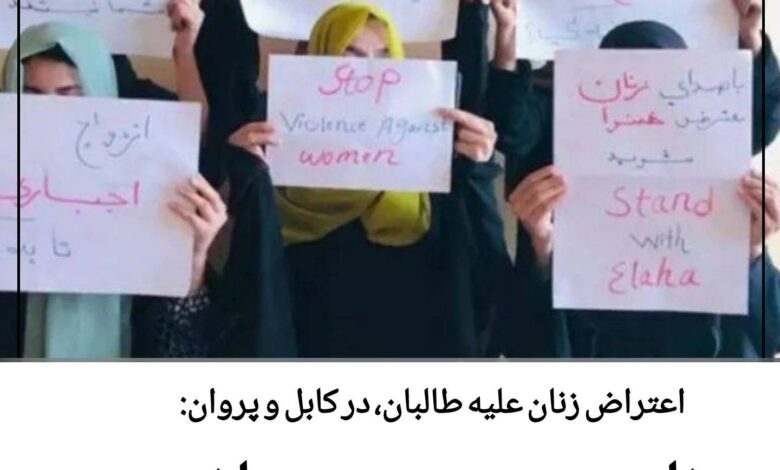 A number of protesting women in Parwan province and Kabul city, in support of Elaha Delawarzai, one of the victims of Taliban violence and aggression, called for the rescue of Elaha from the Taliban's oppression.
Protesting women believe that the Taliban consider women as sex slaves and do not spare them from any type of oppression.
These women are demanding freedom and justice for Elaha by showing placards. The slogans of protesting women read "Save Elaha!" and "women are not your sex slaves."
The protesting women also asked questions such as "Jihad al-Nikah for how long?" Compulsory marriage for how long?"
Elaha Delawarzai, a 24-year-old medical student at Kabul University and the daughter of one of the security officials of the previous government, published videos of forced marriage and rape of her by a Taliban official.
Saeed Khosti, the former spokesperson of the Taliban's Ministry of Interior, raped Elaha in prison and then forced her to marry him, and then imprisoned her in a house and beat and raped her at nights. By publishing her videos, Elaha wanted to save her life from the clutches of this Taliban official and ensure justice.
In response to the calls of reporters, Saeed Khosti initially denied knowing a girl named Elaha, but a day later, he confirmed his marriage to Elaha with a tweet, but denied the rape and beating. He said he had now divorced Elaha because she had insulted the sacred things.
But the women's rights activists believe that Saeed Khosti wants to deny his own crimes by using the charge of insulting the holy things and in this way send Elaha to death.
Afghanistan Women News Agency